Legal Services
We Promise
Courteous, Knowledgeable Certified Legal Videographers
On time... every time
National Referral Network
Professional appearance and performance

No charge for cancellations up to two hours before the scheduled deposition. (local)
Office copy on hold for one year at no charge
Full service video capabilities including shooting, editing and presentation
We Offer Your Firm
State of the art digital audio and video
Videotape depositions
Full editing capabilities
Mock Trials
Documentations and "Day in the Life" videos

Courtroom editing and playback
Duplication in all formats
Video to DVD
Video to CD
No charge for travel in San Jose area.
Contact us for available options and a free estimate.

Free Case Management & Trial Presentation Software!
We are part of the Visionary Team!

Do you have a need for Case Management & Trial Presentation Software. Let us show you how we can help.

Visionary is a Litigation Support & Trial Presentation Software available to the legal industry.

The best part is it is FREE!
Contact us to get this
FREE software today!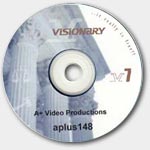 This totally integrated case management tool is a single piece of software that manages a case from discovery and file arrangement thru trial presentation.. This sofware provides scripted presentations and extensive search and organization tools. It supports any size case from the one-day hearing to a sixth-month class action suit.