Films & Slides To DVD
We can transfer slides, 8mm, Super 8mm, Super 8 Sound, 16mm, and 16mm Sound to a DVD. Think of how convenient it would be to just insert the DVD and push play and enjoy those lost memories. We can also encode the video for you to play on you Iphone, Ipad, or any smart phone you have.
A+ Video Productions can transfer any type of film to a DVD. Imagine your movie with an opening title and some of your favorite light background music. Our duplication services make it very economical to have several made and given to family and friends.
Throughout the transfer process, each of your images is treated with the utmost in care and attention to detail. Each image is digitally input into the computer one at a time. From there, they are put in the proper order and the entire sequence is created between each image. We can add background music supplied by you on your favorite CD or use our own royalty free music with your choice of classical, rock, jazzy or country.
Click here to determine what film type you have and how much film is on your reel.
Pricing Information
Movie Film to Video
High quality VHS videotape, case, cleaning conditioning, splicing, beginning title and music. You can supply the music or we can use our generic royalty free music. Most orders completed within two weeks.
8mm:
$0.16 per foot
Super 8mm:
$0.16 per foot
16mm:
$0.17 per foot
Minimum order of $39.95 required. Quantity discounts available over 2000 feet.
Click here to learn more about film types (reels, estimated footage, etc.).
Photos to Video
All packages include beginning title, music you supply, 50 images or less, high quality videotape, label, and case.
Basic Package
Our no frills, economic package
Transition Package
Same as our Basic Package with special transitions between images
Deluxe Package
Images are scanned into computer edit system, color corrected and enhanced, transferred with transitions and motion
79.95 (additional images are $1.00 each)
129.95 (additional images are $2.00 each)
295.95 (additional images are $5.00 each)
Slides to Video
80 slide carousel
79.95

Additional slide carousel
49.95

Individual slides are priced the same as photos.
Convert to Smart Phone Video Media
1$ per minute for fiirst 30 minutes
.5$ additional for each minute over 30 minutes
Preparation Process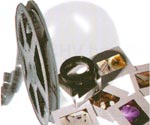 Number your movie reels, slides, or photos in the sequence they are to appear


Securely package your order and take it to your dealer


Complete the order form provided from the dealer and we transfer your order


Return to your dealer in a couple of weeks and start enjoying your new video
Processing Notes
In order to give you the best transfer possible, all videos are recorded in the standard play speed.


Images may be slightly cropped during transfer to fit the display of your TV screen.


Individual images appear for approximately 6 seconds each and then transition to the next image.


Images should be numbered on the back in pencil. Slides are also accepted in numbered carousel trays.


All images are transferred unless instructed otherwise. Leaders, unexposed sections, and clear sections are not transferred.


All your original items are returned with your finished order.


Photos, slides, and movies can appear on the same videotape, but not inter-mixed. They will be priced as separate orders.



How to Order
We recommend visiting any of our local distributors to place your orders. This way you are not charged for mailing and handling fees.

You can order by mail by following these simple instructions:
Print out the transfer brochure


Fill out the order form


Sign the agreement


Send the order to the following address:
A+ Video Productions
4848 San Felipe Rd., #150-104
San Jose, CA 95135
Your order will be completed in 2 weeks and delivered after payment is received.
Want to drop off your order?
Sorry we do not allow drop offs at our facility. We do local pickups for a nominal fee.

If you do want to drop off your pictures, films, and slides today we recomment the following distributor.


AIM Mail Center
4848 San Felipe Rd
San Jose, CA 95135
Web Site Link
View Map (From Yahoo Maps)

See some Samples
Check out some of our samples. If your film does not have audio we will edit it in. We have a full selection of royality free music which consists of digital juice Backtraxx1 and Backtraxx2. Also it you want to share your video with friends call us and we can quote you our prices for getting in on YouTube.com or gogglevideo.com.