Duplication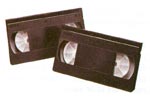 We specialize in high quality video duplication with fast turnaround. Utilizing professional distribution equipment, we can duplicate your videotapes quickly and at a good price. We can take just about any format and copy it to a DVD.
Our Foreign Video Conversion system can take those videotapes from overseas and convert them so you can watch them here in America..
Prices range from $1.95 and up depending on the number of CDs or DVDs to be duplicated. Check out our our prices and services. You can order by mail or go to of our local distributors.

Please note: Orders containing copyrighted material cannot be processed and will be returned.
Pricing Information
Video to DVD and DVD Duplication
DVCAM - 8mm - H8mm - VHS - SVHS - Digital to VHS
Qty
60min
120min
160min
1
$19.95
$24.95
$29.95
2-5
$12.95
$14.95
$19.95
6-50
$9.95
$11.95
$14.95
51-100
$6.95
$8.95
11.95
100+
Call
Call
Call
Prices include high quality DVD & case
Foreign Video Conversion
PAL - SECAM - NTSC
Qty
60min
90min
120min
160min
1
$19.95
$24.95
$29.95
$39.95
Prices include high quality DVD & case
DVD/CD Duplication
Qty
DVD
CD
1
$14.95
$5.95
2-5
$11.95
$4.95
6-20
$9.95
$3.95
21-50
$7.95
$2.95
51-100
$5.95
$1.95
100+
Call
Call
Prices include high quality disc & case BW print (r080105)
Video to DVD
Qty
60min
120min
180min

Additional Video to 1 DVD

1
$19.95
$24.95
$29.95
$7 per transfer
Note: The above price tables do not include California Sales tax.

How to Order
We recommend visiting any of our local distributors to place your orders. This way you are not charged for mailing and handling fees.

You can order by mail by following these simple instructions:
Print out the transfer brochure


Fill out the order form


Sign the agreement


Send the order to the following address:
A+ Video Productions
4848 San Felipe Rd., #150-104
San Jose, CA 95135
Your order will be completed in 2 weeks and delivered after payment is received.
We do loacal pickups at a nominal fee?
Drop off your pictures, films, and slides today and get them transfered at our distributor.


AIM Mail Center
4848 San Felipe Rd
San Jose, CA 95135
Web Site Link
View Map (From Yahoo Maps)

Free Pick Up
If you are located in any of the following areas we do free pick up once a week ($100 minimum order).
San Jose
Sunnyvale
Cupertino
Santa Clara

Contact us today to find the best way to preserve you memories.